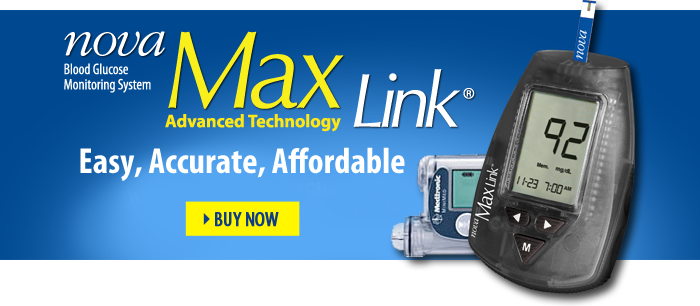 Nova Max Link
®
Nova Max Link provides the same accuracy, precision, and convenience as the Nova Max Plus with the ability to automatically transmit wirelessly your blood glucose results to your Paradigm® insulin pumps models 512™, 712™ and higher including Revel™.
No Coding Needed
Proven Technology
Wireless Communication to Medtronic Insulin Pump*
Tiny .3µl Blood Sample
Fast 5-Second Results
Alternate Site Testing
Virtually Pain-Free 33 Gauge Lancets
The Nova Max® Link™ Monitor offers accuracy and precision for pump patients.
---
No Coding Needed
Miscoded monitors can lead to Insulin dosing errors which could be as high as 50%1,2.
Proven Technology
Second generation monitor using proven technology.
Wireless Communication to Medtronic Insulin Pumps Models 512™, 712™ and Higher Including Revel™
Nova Max Link automatically sends new blood glucose test results to the Paradigm® Insulin Pump* for use by the Bolus Wizard™ Calculator. This calculates the amount of insulin needed to reach target blood glucose levels.
---
1 Boyd, JD and Bruns, DE, Quality Specifications for Glucose Meters: Assessment by Simulation Modeling of Errors in Insulin Dose, Clinical Chemistry, 47:2, 209-214, 2003.
2 Raine, CH, Significant Insulin Dose Errors May Occur if Blood Glucose Results Are Obtained from Miscoded Meters, Journal of Diabetes Science & Technology, Vol 1, No 2, March 2007.
*For use with your Paradigm Model 512, 712 or higher insulin pump. Paradigm, Bolus Wizard, Paradigm Link and MiniMed are registered trademarks of Medtronic MiniMed. Nova Max and Nova Max Link are registered trademarks of Nova Biomedical